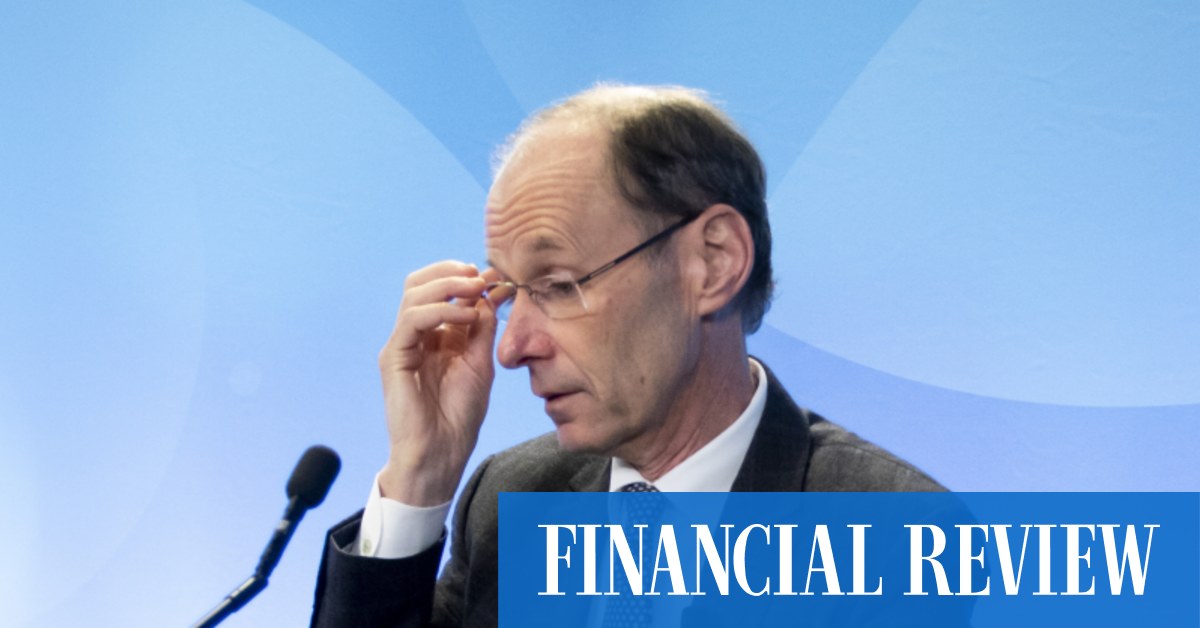 ANZ profits fall to $3.1bn, no mortgage growth until end of second half
RBA Governor Philip Lowe also pointed out on Tuesday that large savings and prepayment buffers would allow the average home borrower to afford higher rates.
ANZ's interim results showed margin pressures, as expected, resulting from rising costs. Net interest margin contracted from 1.65% in the second half of last year to 1.58%, with the biggest reduction coming from home loan pricing due to competition.
But the bank said that now that official rates are up, "overall, we consider 2H22 margins to be marginally positive." He pointed to better returns on capital thanks to higher rates, more variable home loans and higher mortgage and personal lending activity.
Disappointing on cost
ANZ announced a fully franked interim dividend of 72¢, payable on July 1, the level expected by the market. Capital was more flexible, with CET1 falling to 11.5%.
In a briefing with analysts, Mr Elliott walked away from an $8 billion cost target, which he described as a "bold aspiration" when it was achieved. He said costs, including for customer remediation, had risen since then, with inflationary pressures making "absolute cost reductions more difficult" and "setting cost targets less appropriate".
Still, he said the bank would continue to seek efficiencies, including moving half of applications to the cloud within 18 months.
Investors said the result was held back by higher spending.
Milford Asset Management portfolio manager Will Curtayne said the overall result was weak, due to higher costs, with net income driven by more provision reversals.
"The most underlying pre-provision earnings figure missed 4%, due to much higher than expected costs," Curtayne said.
Capital spending remained strong, with ANZ deploying $1.04 billion in H1, just below the rate in H2 2021, which was 40% higher than H1 21. Overall spending rose by 2% to $4.5 billion, but ANZ said its "running the bank" costs remained flat and in line with guidance provided to the market in the first quarter.
Mr Elliott said half was important in ANZ's "ongoing transformation", including the soft launch of a new retail banking platform in Australia, ANZ Plus, which he said offered more than a "brilliant new app". "It's a whole new bank, basically built on a whole new infrastructure," he said, although he acknowledged it was "very early".
Home loan balances were flat during the six months at $278 billion. But ANZ said it was investing more to develop the book. "Investments in our mortgage processing capacity in Australia have generated positive balance sheet momentum while processing times are on par with our major peers. We are on track to grow in line with the major Australian banks by the end of our financial year, but we will do so taking into account the performance of our margins," said Elliott.
After the RBA raised the cash rate by 25 basis points on Tuesday, the big four banks passed the rate hike on to customers, with ANZ raising its standard floating rates by 25 basis points. However, ANZ did not say whether it would also raise deposit rates for savers.
As interest rates begin to rise, bank investors are keen to understand the impact rising debt servicing costs will have on banks' bad debts, which remain very low, supported by the strength of the economy. employment and economic recovery after the pandemic.
ANZ released $284 million from its collective provisioning, determining that the "most acute" risks associated with the pandemic have abated over the half-year.
But he echoed the RBA governor's comments about continued global uncertainties, as well as rising interest rates, leaving his overall level of provision higher. "Uncertainties associated with geopolitical events and rising inflation and interest rates, as well as recent flooding in Australia resulted in management overlays of $618 million," ANZ said.
ANZ's collective provisioning balance as of March 31 of $3.76 billion represents additional provisions of $381 million over pre-COVID levels as of September 30, 2019.
Its retail and commercial banking businesses reported an 8% increase in profits to halve to $1.986 billion.
The result offset a significantly slower institutional banking result, where profits fell 22% to $730 million from the previous, leaving its New Zealand business the second largest contributor to profits.
ANZ in New Zealand, where interest rates have already risen, grew 7% to $787 million.
Markets activity struggled as revenue fell 13% to half on half. "We haven't had a stellar time in trading, in our market business," Mr. Elloitt said.
New corporate structure
ANZ also announced a proposal to reduce levels of regulation of its non-banking businesses, including investments in adjacent tech players.
It is seeking regulatory approval to create a non-operating holding company, which would separate ANZ into its traditional banking business which would continue to be regulated by APRA, with a separate company to hold its non-banking business which provides "services non-banks". around the edges," Mr. Elliott said.
APRA regulation of non-banking businesses "slows you down," he said, "and it imposes a level of structure, infrastructure and compliance on a business that really isn't useful."