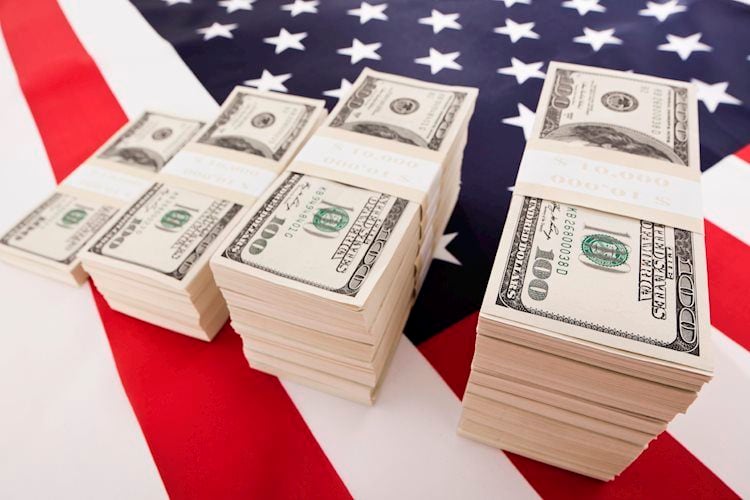 DXY hits 5-year highs above 103.00 as Yen and Euro crater
What you need to know on Thursday, April 28:
A sharp reversal in recent yen strength on Wednesday, which had no clear trigger, saw the US dollar reclaim the top spot in the G10 daily performance chart and saw the weighted US dollar index exchanges (DXY) again hit more than five-year highs. The DXY rallied north of the 103.00 mark for the first time since January 2017, hitting near 103.30 before falling back lower to stabilize around the big figure as US trade drew to a close. .
The buck bulls were unimpressed with data that showed the US trade deficit in goods and services hit a new record high of over $125 billion in March and led some analysts to revise their estimate down of first-quarter GDP growth, a day ahead of the Bureau of Economic Analysis and Department. of Commerce releases first estimate of first-quarter growth. Instead, analysts cited forecasts that the Fed would implement the first in a series of 50 basis point rate hikes and quantitative tightening next week, negative geopolitical news feeds and lingering concerns about China's foreclosure as benefiting the safe-haven dollar.
On yen weakness, traders appear to have seized the opportunity presented by the recent decline in many major G10/JPY pairs to reload long positions, seemingly betting that recent risky flows will not save the day. yen of new losses so long. as the BoJ redoubles its accommodative policy efforts. Speaking of which, the BoJ will announce its latest monetary policy decision along with new economic forecasts in the upcoming Asia-Pacific session, with any dovish mood having the potential to exacerbate the yen's latest decline. For reference, USD/JPY rallied over 100 pips or 0.9% on Wednesday to 128.30 from lows below 127.00.
As for the other major underperforming G10 currencies, the euro and Swiss franc were the second worst performers, each depreciating 0.8% and 0.7% on the day against the US dollar. EUR/USD then continued its recent losing streak to fall mid-1.0500 and bears are eyeing a test of the 2017 lows at 1.0330. Analysts cited the latest escalation in EU/Russia tensions after Gazprom cut off gas flows to Poland and Bulgaria (which refused to pay for gas in roubles) as adding geopolitical risk premiums to the currency unique.
As the EU continues to ponder a new round of energy sanctions that could target both oil and gas exports, fears of stagflation fueled by scarcity in energy prices in the area euro remain high. According to some analysts, the unfavorable macroeconomic/geopolitical context explains why the EUR/USD has failed in recent weeks to take advantage of the ECB's hawkish turn towards Q3 takeoff.
Elsewhere, a stabilization in risk appetite which saw major US equity markets close slightly in the green and the stabilization of commodity markets (apart from precious metals, which continue to be affected) , helped cushion the decline in more risk-sensitive G10 currencies. AUD/USD and USD/CAD both closed the US session at around 0.7120 and 1.2820 respectively, with the Aussie getting notable support from strong domestic inflation readings boosted bets that the RBA could raise rates as early as next week.
Meanwhile, NZD/USD fell another 0.3% below 0.6550 but remained above yearly lows at 0.6530 and GBP/USD fell another 0.2% below 1.2550, although support at 1.2500 has held (for now). The pound's better performance on Wednesday probably also owes a lot to the fact that over the past four sessions it has suffered a historic blow as a recent string of data releases on the UK economy and government borrowing Uni sparked renewed concerns about the country's economic outlook and the BoE's tightening prospects. Wednesday's dire CBI Distributive Trades survey for April seemed to ensure the beleaguered currency was not benefiting from a likely overdue technical rebound.