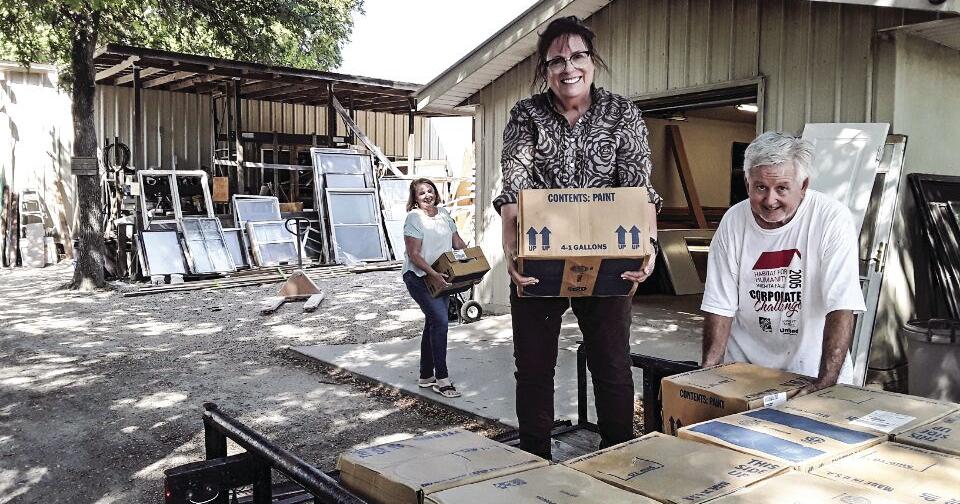 There's No Place Like Home |
Kerr County Habitat for Humanity's new executive director, Mary Campana, is no stranger to the Habitat for Humanity program. She came to Kerrville after working several years for the Habitat branch in Austin as a development manager in charge of communications and fundraising. During her tenure with the Austin branch, the team she worked with raised over four million dollars a year to fund the program.
Born in Buffalo, NY, Campana's family moved to Dallas when she was two years old. She earned a degree in psychology and worked in mental health and psychiatric medicine for several years before moving into sports marketing for 12 years. She then moved into the nonprofit sector and worked for 30 years in various nonprofit venues. She moved to Austin to first work at the Helping Hand Home, a residential treatment center for abused children.
After working for the "Communities in Schools" program in Austin, a dropout prevention program that emphasizes involving community resources in schools and running a therapeutic riding program for two years at Virginia Beach, Va., she moved back to Austin. work for Habitat for Humanity Austin.
"Habitat for Humanity involves commitment," Campana said, "it happens when a community comes together. There's nothing better than rolling up your sleeves in a teambuilding experience.
Campana said an important part of the engagement is for the community to come together to not only provide financial resources, but also to participate in the actual construction of the houses.
"Building alongside the owner and establishing a partnership is very important," she said, "and it's so important to empower owners."
Habitat homes are built primarily by volunteers, and each homeowner must contribute a minimum of 450 sweat equity hours toward the construction of their own home and the homes of others selected by the program.
"I want to build from the strong foundation already in Kerrville," Campana said, "because the local affiliate is still in the top three smallest Habitat affiliates nationwide."
Habitat for Humanity Kerr County was founded in 1989 and completed its first home in 1990. It has long been one of the programs recognized by Habitat International due to the number of homes built.
Tom Junkin is the current Construction Manager and works with volunteers to build homes for qualified families in the community.
"What I have already noticed is the level of community engagement. He is so much more robust and committed. This is why Affiliate is so successful and I want to take it to the next level," added Campana.
Three homes are currently in various stages of the construction phase and volunteers will be returning after Labor Day to complete these homes in the fall. In January 2023, construction will begin on a Habitat special house co-sponsored by Schreiner University and the First Presbyterian Church of Kerrville marking the 100th anniversary of Schreiner's founding.
"The goal of the Habitat board is to diversify our housing products and be able to build more homes on less land," Campana said, citing rising land costs in the city where utilities are available.
The local affiliate is in the process of selecting candidates for the houses for the coming years. A Family Selection Committee accepts applications and then begins the lengthy process of selecting the families who will partner with Habitat to build their home. It can take up to two years or more from the selection of the family to the final blessing of the house.
"I will join the committee and be part of the family selection process," Campana said, "so that I can start the journey with the family from the beginning."
The houses are built primarily with funding from individual and commercial donations and grants from local foundations and federal funds.
"We want to continue to help meet the high demand for accessible (affordable) housing in our community and remain a recognized affiliate of Habitat International," Campana said.
In order to achieve this goal, Campana joined the Housing and Development Committee of the Kerrville Chamber of Commerce.
For general information about the Habitat for Humanity Kerr County program, call (830) 792-4844
Campana said the affiliate also has long-term plans to expand the ReStore program. The Habitat ReStore, located at 105 Business Dr. near the Goat Creek Cut-Off, opened over a decade ago and has proven to be a very successful addition to the building program.
"Our goal is for the ReStore to pay for all affiliate running costs and allow all donations to go directly towards home building costs," she added.
The ReStore is a retail facility that sells building materials, home improvement supplies, and a variety of other items donated to the program. Store hours are 9 a.m. to 4 p.m. Thursday through Saturday. For donations or restoration inquiries, call (830) 367-4020.
The annual Habitat for Humanity Golf Tournament, which has raised significant funds for home building costs and operations, will take place on Monday, October 24 at the Riverhills Golf Course. This year's tournament sponsors are KPUB and MacDonalds Companies. More details on the golf tournament will be available soon.