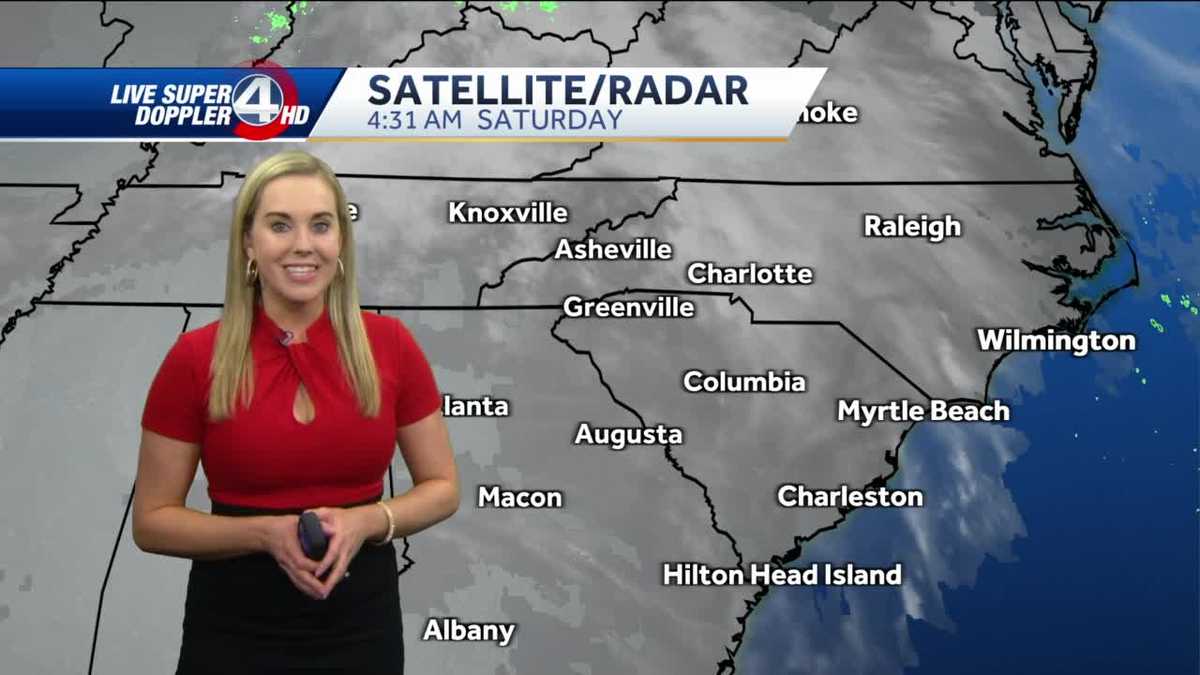 Videocast: timing the chance of rain
Videocast: timing the chance of rain
well we have been spoiled with all the sunshine the past few days and very comfortable balmy temperatures and that is going to stay with us through the weekend however you will notice a few more clouds especially this morning clearing coming from the west and approaching our area this afternoon and that will help warm our temperatures a few degrees warmer than yesterday. So looking at this weekend, comfortable and calm conditions. So if you're planning on being outdoors, we're looking at above average temperatures today and tomorrow, near record high heat, although we'll see a few more clouds for today. Still nice and dry today and tomorrow, the rain returns late Monday and that will set us up for a very wet week ahead. We're looking at the chances of intermittent rain, Monday Tuesday back in the game by Wednesday and even well into the end of next week as well, and that will also cause some significant temperature swings. So for today most of us upper sixties, lower seventies, several degrees above average and tomorrow as I mentioned near record heat it will be 80 degrees tomorrow and Monday well above what we should be. And then Tuesday we start to moderate those temperatures which makes us feel a bit cooler, and then Wednesday we sit below average only to be above the upper 50s. There will therefore be several chilly days ahead of us by the end of next week. Now for today the clouds are going to be a little hard to start as we come in around noon, early afternoon might still see a few clouds hanging around the mountains, more sun moving in , however, for northeast Georgia, we might be dealing with these clouds around 11 p.m., and then we'll start seeing clouds. The clouds are really starting to thin, setting us up for a nice, cozy and sunny late evening. Now, as we look over the next few days, we've hinted at more rings and moved into the image, with both patterns indicating at least an inch and a half of rain over the next few days. Not for this weekend, but to usher us into next week. So as we plan things out, Saturday, Sunday looking nice and dry. A few moving clouds at times could see erratic watering on Sunday, but generally calm conditions will remain with us through the first half of Monday. Once we enter the afternoon and evening period, that's when we see our first wave of humidity moving through the picture. As of Monday evening, which brings us to early Tuesday morning, this front begins to move southeast. We're not done with the rain yet. In fact a few showers late in the day may develop Tuesday, mostly in the south as well as more southern counties south of Greenville better chance of seeing that moisture late in the day Tuesday then it really starts to pick up by Wednesday into Thursday. So you'll want to have the rain gear ready for next week. But at least for this weekend, we stay dry. Some morning clouds high sixties, tomorrow high seventies, a bit of a breeze with that. And then those showers develop late in the day on Monday and we gradually cooled things down Tuesday through Wednesday and the rest of the week looking to be on the wet side. So once we get through this weekend, we're looking at a very wet pattern coming Monday through the very end of next week. It will also bring cooler temperatures ahead.
Videocast: timing the chance of rain
Calm and comfortable weekend.
Calm and comfortable weekend.